Okta for MSPs
ZeroTek makes it easy for MSPs to resell, deploy, and manage Okta.

Tekscape has implemented various MFA and SSO solutions across many verticals. Our experience with Okta, delivered through our partnership with ZeroTek, has led to great outcomes for our clients and internal project delivery teams.
ZeroTek's expertise and professional guidance from scoping through delivery and post-installation support has enabled Tekscape to confidently quote and deliver a high-quality solution, and mitigate threats to a large and growing attack surface.
As a Solutions Provider, Tekscape also values ZeroTek's commitment to listen to our feedback for the tuning of their product and process roadmaps.
– Nathan Grace, Solutions Architect, Tekscape


ZeroTek's Professional Services team empowered us to successfully roll out a large and complex client deployment of Okta on a tight schedule. Methodical, highly knowledgeable, and genuinely responsive to what we needed, the ZeroTek team didn't just demonstrate their methods—their services were really focused on deepening our understanding and furthering our expertise.We already loved Okta—their Lifecycle Management in particular is a gamechanger for MSPs. But ZeroTek has really thought through what MSPs need to succeed, and you'll see that reflected in everything they do, from their platform to their Pro Services.
Partnering with ZeroTek to bring Okta's best-in-class IAM technology to our customers has been a great business decision we would highly recommend to any MSP.
– Eric Heidrich, Dual Path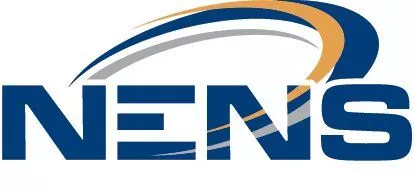 One of NENS' top business priorities is to provide best-in-class security services, policies and standards. Moving our customers to the Okta sign-on experience to protect them was a key element in realizing that vision. ZeroTek's MSP platform and business model have made those migrations straightforward, and our consultants enjoy the ease of managing users in ZeroTek over previous experiences with Azure AD and other platforms.
Managing IT in the cloud era requires a new set of MSP tools. ZeroTek is a key partner in our business evolution.
– Michael Kourkoulakos, CEO, New England Network Solutions (NENS)

 CONTACT US for a live demo and to learn about pricing.
ZeroTek is an MSP SaaS platform deeply integrated with Okta, the leading IAM security solution for enterprise.
ZeroTek brings the power of Okta to MSPs, making it easy to resell, deliver and manage Okta as a monthly service to SMB customers.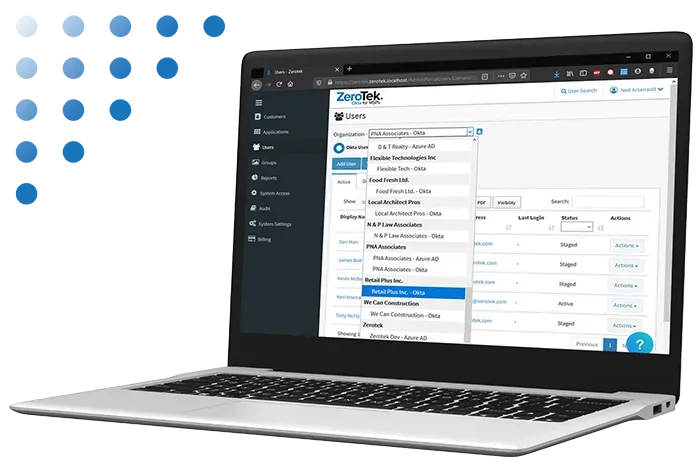 Manage all your customers in one place—ZeroTek is multi-tenant Okta.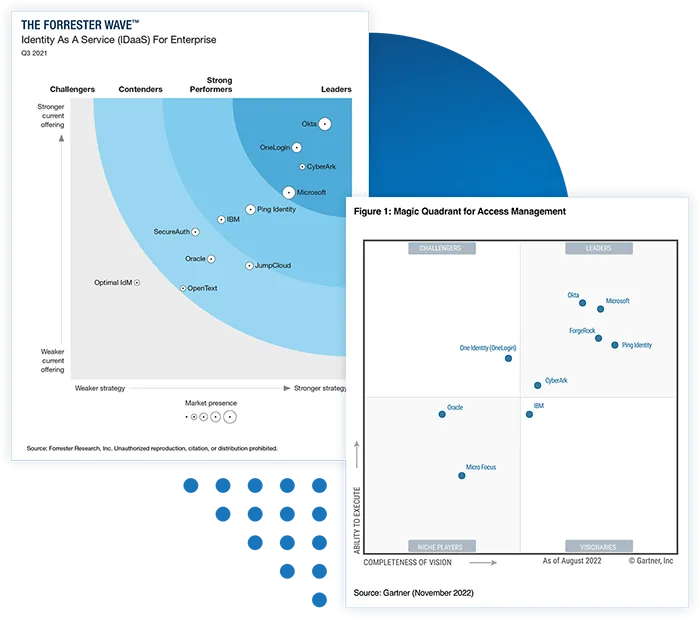 If you're an MSP, you might be here because Okta referred you to us.
Okta's solution is great for enterprise, recognized annually as a leader by third-party analysts like Gartner and Forrester. But Okta is less suitable for MSPs providing monthly services to multiple SMB customers.
No one does IAM better than Okta.
And no one does Okta for MSPs better than ZeroTek.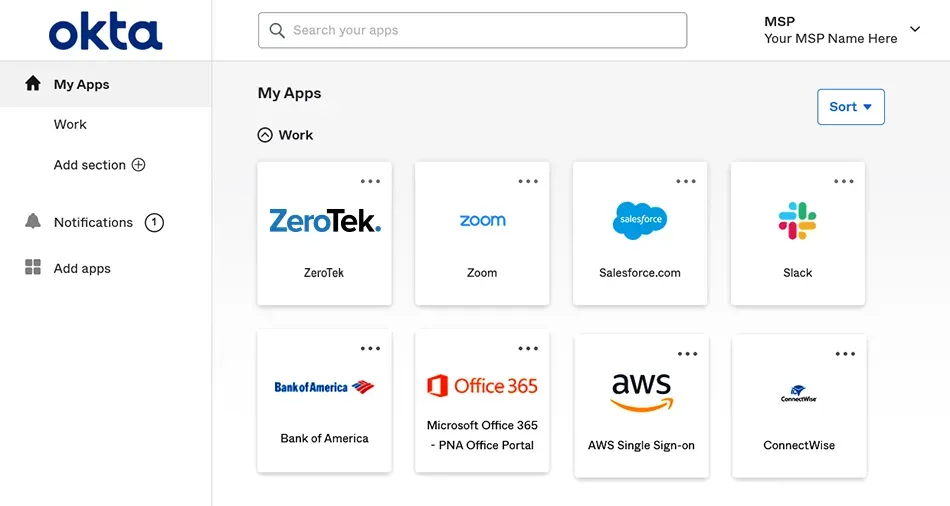 Give your customers secure, easy SSO access to all their apps from a brandable Okta dashboard. (Only MSP users see the ZeroTek app.)
Generate New MRR
Use ZeroTek to deliver Okta as a monthly service to generate new revenue and protect your SMB customers with the world's best IAM technology.
Simplify Setup
Create new Okta directories in a few clicks. Set up new users and apps in seconds. ZeroTek streamlines the entire process for rapid deployment. 
Simplify Management
See and manage Okta for all your SMB customers in a single dashboard purpose-built to simplify systems and applications management for MSPs.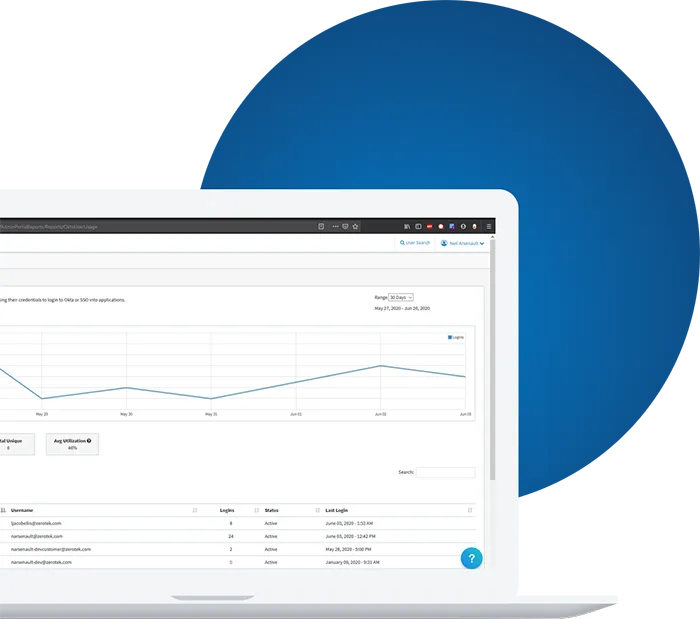 Why ZeroTek?
We aren't successful unless your customers are happy.
A lot of solutions promise to empower MSPs with the security and management technologies you need to be successful.
We decided to walk the talk by making our entire business dependent on MSP success—which means you and your customers have to be delighted with the results. That's why you'll find:
Our Training options are effective—and cost-effective—to get your team ramped up fast.
Our Okta-Certified Support team understands the MSP model and is highly responsive.
Our Pro Services are ready to deliver on projects large and small.