ZeroTek combines Okta's enterprise-class IAM technology with an MSP SaaS platform that makes it easy for MSPs to deploy, scale, and manage Okta for multiple customers of any size from a single dashboard.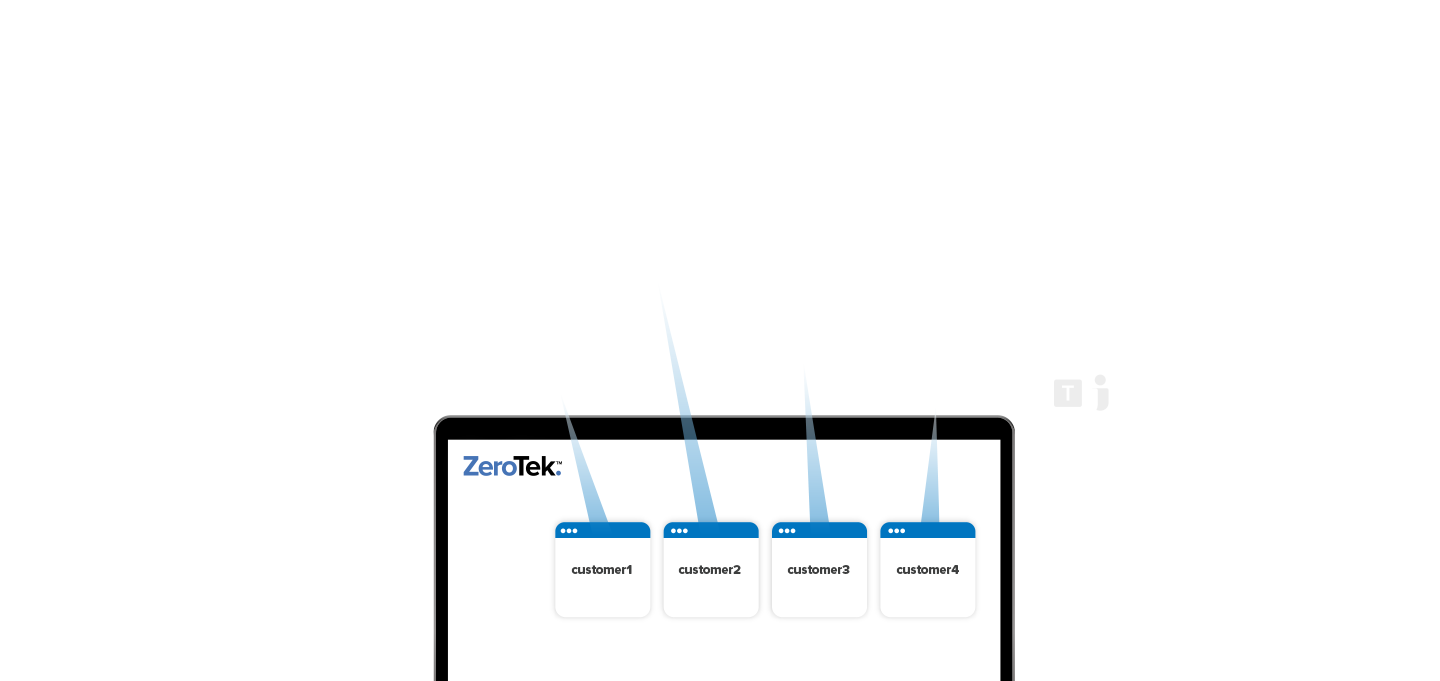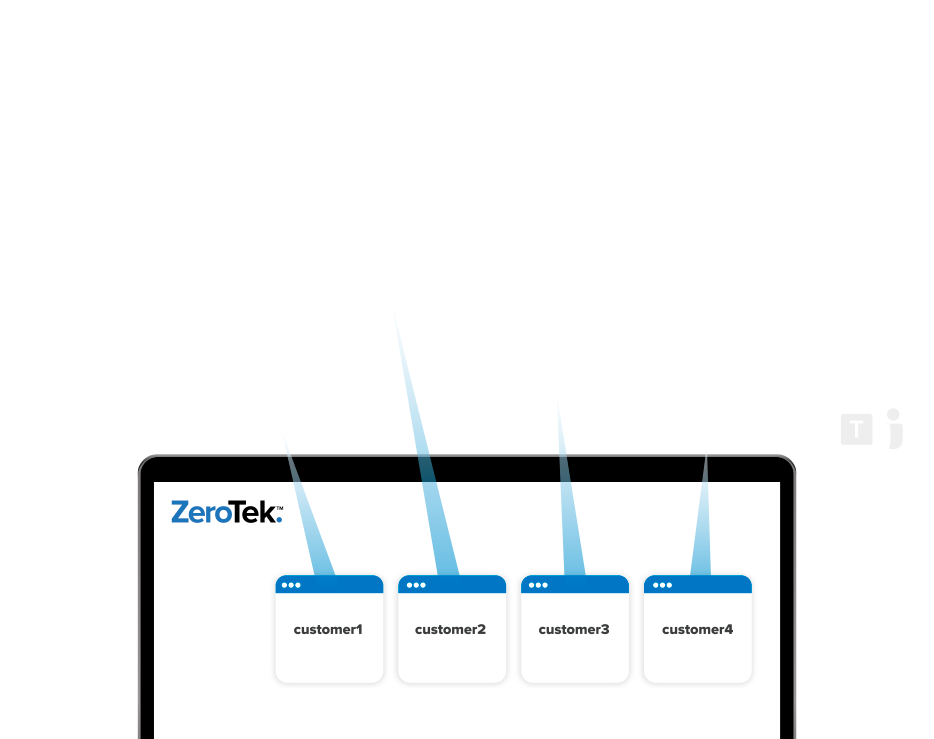 ZeroTek is Purpose-Built for MSPs
Here are a few highlights from the ever-growing list of capabilities the ZeroTek platform gives MSPs: 
Single Dashboard
View and manage multiple Okta Directories in one place.

ZeroTek lets you view and manage multiple Okta Directories—one for each of your SMB customers—in one place. Switch from one customer to another in a single click, then drill down to get things done.
Self-serve Okta Directories
Create new Okta Directories on demand, in seconds.
No need to contact sales, get quotes and approvals, or figure out licensing. With ZeroTek, you create a new Okta Directory for a customer in seconds—ready to configure and roll out.
Consolidated Workspace
Perform all daily management tasks in one place. 
Create users, reset passwords, unlock accounts, manage group membership all in one place and more. All actions are fully auditable, so you know exactly what was done, by whom, and when. 
Deep Linking
Secure single-click access to Okta Admin Consoles.
Let designated techs SSO into assigned customer Okta Directories to perform one-off admin tasks like adding apps or editing security policies, with a comprehensive audit trail. No more sharing admin passwords.
MSP roles
Configure MSP-specific role-based and object access (RBAC).
Use ZeroTek's built-in MSP-specific roles to assign appropriate least-privileged access, because senior admins don't do the same work as junior techs. Limit individual access to specific customer Okta Directories.
License and billing data  
View comprehensive billing and license information.
Easily view all your Okta licensing and billing information across customers. And with ZeroTek's built in Billing role, you can give your financial team SSO access to the customer billing views and nothing else.
Comprehensive auditing
Keep on top of tech activities with ZeroTek's comprehensive audit logs.
ZeroTek's audit logs include everything your team does in ZeroTek and Okta, giving you a comprehensive view on all activity, and rapid access to the data you need for troubleshooting.
Security for MSPs
Secure your employees and business on the ZeroTek platform.
As part of the Okta Integration Network (OIN), ZeroTek supports SAML 2.0 and SCIM provisioning, so it's easy to set up secure access for your whole team, then use ZeroTek as a "walled garden" for most daily tasks.
MSP Reports
Get the insight you need with our reporting engine designed for MSPs. 
ZeroTek offers unique reporting capabilities designed for MSPs. We've built several reports to fill gaps in Okta's platform as requested by our MSP Partners.
Identity consolidation
Consolidate and manage all identity directories in one place.
ZeroTek is built for multi-tenant consolidation and management of all your customer Okta and Azure AD identity directories in one place, eliminating the need for shared accounts and password managers.
MSP integrations
Streamline billing with our ConnectWise Manage integration.
ZeroTek's integration with ConnectWise Manage allows ZeroTek's month-to-month usage data to automatically flow through to existing agreements in ConnectWise.
Client Identity Factor Challenge
Verify the identity of every caller to your Help Desk.
With ZeroTek's Client Identity Factor Challenge, your Help Desk staff can push an Okta verification challenge to callers to make sure they are who they say they are before engaging in any support activities.
Global Search
Find users fast across all customer directories with global search. 
For rapid resolution of Help Desk tickets, your team can search for any user across all Okta and Azure AD/Microsoft Office 365 Directories you are managing in ZeroTek.
Customer grouping
Group multiple Okta Directories under one customer when needed. 
If needed (due to mergers or acquisitions), MSPs can group multiple Okta Directories under one customer for accurate customer-wide reporting, identity inventory, and easier management.

 SEE FOR YOURSELF how it works. Book a live demo.
BLANK HOLDER
What does Okta do that my customers need?
You and your SMB customers face the same threats as the global companies that depend on Okta for Identity Access Management (IAM). So what does Okta give the big guys?
The short answer is: Adaptive Single Sign-On (SSO), Adaptive Multifactor Authentication (AMFA), Lifecycle Management (LCM), and Universal Directory. You'll find all of these described in the long answer version below.
ZeroTek Okta licenses include all these features, but our platform gives MSPs an easy way to see and manage them across all your customers:
Adaptive Single Sign-On (SSO)
Okta's Adaptive SSO lets you protect your customers' users with consistent security policies that adapt to their behavior.
For example, maybe a user should only be able to access sensitive applications when on the company network or from a specific geographical region. Read Okta's overview of their Adaptive SSO.
Adaptive Multi-Factor Authentication (AMFA)
Reduce IT friction with Okta's powerful policy engine that incorporates machine-learning-based risk scoring, device context, location context and behavior to ensure security regardless of situation.
For example, you might require MFA for all offsite logins but require it only once a day for logins from trusted locations or trusted devices.   Check out Okta's detailed description here .
Lifecycle Management (LCM)
Managing user identity and applications has never been easier.
Create a user once, then assign that user to relevant groups and roles, or leverage Okta's automatic group assignment rules. Within seconds, that user is configured and provisioned with all the apps they need. Subsequent modifications to the user profile can be automatically pushed out to apps with a single click.
If the user leaves the company or breaches trust, you can shut them out of everything in seconds.
All this is possible because Okta has the largest collection of provisioning integrations that allow you to automate user creation, modification, deactivation, and group synchronization for 500+ cloud apps.
Lifecycle Management also accelerates your Okta deployment because you can load existing user profiles into Okta from applications and on-premise Active Directory, then consolidate and streamline identity management. Okta's introduction to LCM is here.
Universal Directory
One directory for all your users, groups and devices. Consolidate a user's various profiles behind a single Okta identity and then manage access to all applications and devices – making life easier for both end users and MSPs.
Okta can connect with multiple directory sources (such as on-premise Active Directory, Azure AD and HR systems) to provide a unified single source of truth across systems. Okta also provides unmatched flexibility in storing additional user attributes as part of the user object.
For example, MSPs can store the initial onboarding ticket, record whether the user is subject to specific policies, and more.
What if I just want SSO or MFA?
ZeroTek's licensing includes Okta's Adaptive SSO, Adaptive MFA, Lifecycle Management, and Universal Directory bundled together because when used as a suite, nothing comes close to providing so many benefits and such a high ROI for you and your customers.
We know that you might have found ZeroTek because you were looking for a single slice of this solution, like stand-alone SSO or MFA… but we are confident that as you learn more about the benefits of offering the ZeroTek | Okta solution to your customers, you won't look back. However, if you need the flexibility, contact us and let us know what you're looking for. We can probably help.
Why wouldn't I just buy directly from Okta or another Okta Partner?
Well, it's true. You could. But Okta primarily designs for and sells to enterprise. And if you're an MSP, you have no way to resell Okta or their complementary security products as a consumption-based, month-to-month service except using ZeroTek.
Okta's excellent, intuitive interface is designed perfectly for enterprise businesses — not for MSPs managing a growing number of SMB customers. ZeroTek lets MSPs easily and securely manage multiple customers on Okta in one place, with tools and features designed to help MSPs scale their business.
For example, adding a new customer Okta directory in ZeroTek takes seconds, not days, because you do it in a few clicks instead of contacting and coordinating with a sales team.
And finally, while Okta's technical support is excellent and highly responsive to enterprise businesses, MSPs are ZeroTek's wheelhouse. When you reach out to ZeroTek support, you connect with Okta-Certified professionals who also understand the MSP business model and the ZeroTek platform, so you get the tailored support you need.
What if I'm already using Okta?
No problem. You can bring existing Okta Directories into ZeroTek and manage them all from our single dashboard.
How does ZeroTek compare with Azure AD?
Because ZeroTek is built for MSPs and deeply integrated with the leading IAM security solution (Okta) we are confident you'll find our platform easier to implement and configure, that it offers a much faster path to proficiency for your team and is more flexible and intuitive.
How does the pricing work?
All licenses are billed monthly based on consumption. On the 15th of each month, we take a snapshot of licenses registered and bill the MSP for the aggregated usage. Our license pricing is simple and competitive.
MSPs can charge whatever they want. Many MSPs include an Identity Security line item in their pricing, either bundled with other services or as a separate item.
Do my end customers use ZeroTek?
No. The ZeroTek app is typically only for MSP users, although in some cases you may allow access to it for delegated customer IT staff who are playing a co-managed role under your control. MSP techs SSO into the ZeroTek where they can securely see and manage all your Customers.
What your end users see is a dashboard with app tiles relevant to them, so they have secure SSO access to the cloud apps they need.
Note that Okta has made it easy to customize the customer-facing dashboard. You can brand it with the Customer's logo or your own (replacing Okta's in the top left), create a custom URL, and change the look and feel by customizing colors.
What's the customer experience if I roll this out? How disruptive is this going to be?
Once you set up an Okta Directory for your customer and configure users, it's as simple as giving users the URL for their Okta Directory, and the link to download the Okta Verify app to their phones.
If you've set up MFA for each user, they won't need a password to login on their URL — MFA will take care of identity validation, and they'll land in the Okta user dashboard.
You'll see an example of the Okta user dashboard the very beginning of our quick tour video. The user dashboard is where the user can see and access all their apps with one click. Okta makes it easy to customize this dashboard by branding it with the Customer logo or your own, and change other aspects of the look and feel.
Note, however, that most end users will not see or use the ZeroTek app—that's typically just for MSPs.